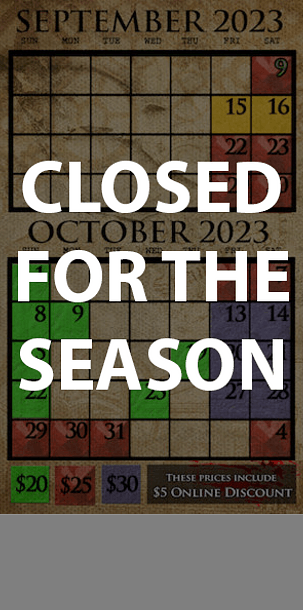 Contact Us
120 Pearl St.
Fall River, MA 02721
info@factoryofterror.com
(774) 415-0153
Welcome to Factory of Terror Haunted House
Are you ready to embark on a spine-tingling journey through the heart of fear? At Factory of Terror Haunted House, we've been crafting nightmares and creating unforgettable memories for thrill-seekers of all ages. With a legacy of over 28 years, we are the go-to destination for those in search of the ultimate scare.
The Factory Experience
Step inside our historic building, a real 125+ year-old factory that has witnessed generations of terror. As you navigate our hauntingly detailed sets and winding corridors, you'll find yourself immersed in a world where the boundary between reality and the supernatural blurs. Our dedicated team of scare experts, makeup artists, and set designers work tirelessly to ensure that every visit to Factory of Terror is a new, heart-pounding adventure.
A Variety of Thrills
Each year, we push the boundaries of fear to bring you the most innovative and hair-raising scares imaginable. Whether you're facing your worst nightmares in our themed attractions, navigating intricate mazes, or surviving encounters with horrifying creatures, you're in for an experience that will test your courage and leave you breathless.
Accessibility and Inclusivity
At Factory of Terror, we're committed to providing a thrilling experience for everyone. Our haunted house is fully ADA compliant and wheelchair-accessible, ensuring that all guests can join in the fun. We also offer timed ticketing to minimize wait times and provide a more comfortable experience.
Retail and Food
While you're here, don't forget to visit our on-site gift shop, where you can take home a piece of the terror with branded shirts, hoodies, beanies, caps, and a variety of horror-related merchandise. And if you need a break from the screams, we've partnered with Newport Creamery to offer delicious ice cream and milkshakes just outside our doors.
Stay Tuned for More
Our season may have concluded, but the fear never truly ends at Factory of Terror. Stay tuned for updates, special events, and announcements for the upcoming season.
Thank you for choosing Factory of Terror Haunted House as your destination for heart-pounding fun and unforgettable memories. We can't wait to welcome you back for another year of fear and excitement.